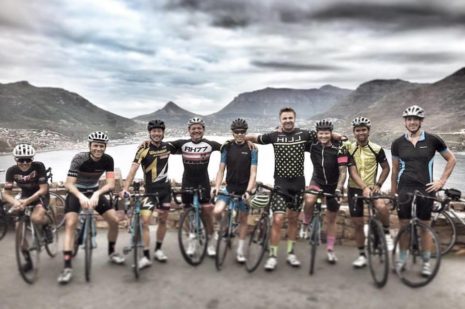 ENGLISH BELOW
jetzt war es doch einige zeit etwas ruhiger, zumindest aus sportlicher sicht. mein körper und auch mein geist haben eine auszeit vom seriösen trainingsalltag benötigt. klar, hab ich täglich "was getan" aber eben rein aus "lust und laune" und ohne trainingsplan. meine verletzungen aus afrika (zb entzündungen am sprunggelenk) sind jetzt deutlich besser und deshalb versuch ich den weg zurück zu finden.
der fokus ist jetzt schon am nächsten "großen" ding, aber es wird noch mehr organisatorischen aufwand bedeuten als afrika es war.
jetzt heißt es mal wieder ordentlich grundlagen auf zu bauen, deshalb habe ich mich auch dazu entschlossen fünf wochen zurück nach stellenbosch (südafrika) zu kommen. hier passen die bedingungen im jänner/feb und das training mit den locals macht viel freude, wenngleich es schon wieder sehr anstrengend ist, so viele stunden am rad zu verbringen. zum glück darf ich auch laufen und sogar das schwimmen wird deutlich besser ; )
ich bin motiviert und fokussiert, wie selten zuvor! versuche einiges noch professioneller an zu gehen und habe einige neue partner an meiner seite für meine zukunft gewinnen können.
2017 würde ich ganz gerne den ein oder anderen triathlon bestreiten (austriaXtreme, ICON livigno Xtreme, ….) und nachdem die radstrecken dort 188k/4000hm bzw 200k/5000hm lang sind, ist auch klar wo mein fokus liegt ; ))
also dann, arbeitet stetig an euch selbst – die waren werte im leben sind jene, welche man mit geld nicht erkaufen kann. seid stolz auch euch, habt spaß am training und seht es als ein riesen privileg sport betreiben zu dürfen! cheers michael
mehr auch auf redbulletin:
https://www.redbulletin.com/int/de/sports/michael-strasser-seine-kommenden-ziele
_______________________
Now it was a bit quieter, at least from a sporting point of view. My body and also my spirit needed some time off from the serious training. Sure, I still trained every day, but just for fun and without a training plan. My injuries from Africa (e.g. inflammation at the jump joint) are now much better and therefore I am trying to find the way back.
The focus is now on the next "big" thing, and it will need much more organizational effort than for Africa.
Now it is time again to build up properly, so I decided to come back to Stellenbosch (South Africa) for five weeks. Here the weather conditions in Jan/ Feb are perfect and training with the locals is a lot of fun, although it is already very hard to spend so many hours on the bike. Fortunately I can run again and even the swimming will be much better 😉
I am more motivated and focused than ever before! I will try to be more professional and have new partners at my side which will be good for my future.
In 2017, I would like to do some triathlons (austriaXtreme, ICON livigno Xtreme, ….) where the cycling distances are 188k / 4000hm or 200k / 5000hm long, and that is where my focus is; ))
So then, work constantly on yourselves – for the most valuable things ​​in life are those which money cannot buy. Be proud of yourself, have fun at training and see it as a great privilege to do sport! Cheers michael
more on redbulletin (german only)
https://www.redbulletin.com/int/de/sports/michael-strasser-seine-kommenden-ziele