I did it! A new world record!
We are in Ushuaia! I did it! The hardest fight of my life is won. I arrived today at the local time of 09:05 a.m. after more than 22,600 kilometers in 84 days, 11 hours, 50 minutes. A new world record! Furthermore I have beaten the old record by 15 days. It was extreme, so often incredibly grueling and I went to my limits and beyond. But now I stand here in Ushuaia and I am just overwhelmed. I had to do a last climb just before the finish line. The snowy pass demanded power from me, which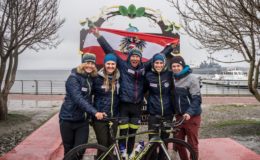 read more

about: I did it! A new world record!