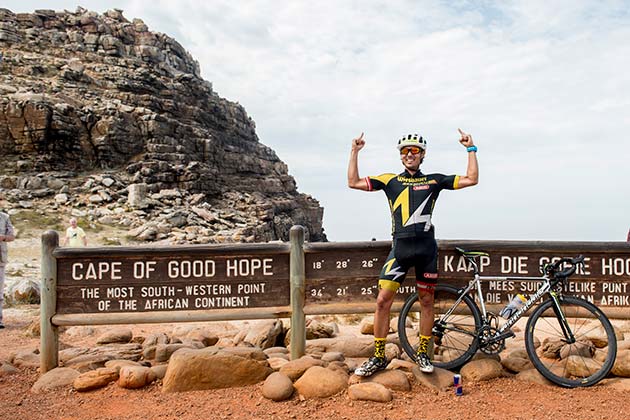 34Days11Hours10Minutes
Multimedia lecture – Cairo2Cape – WORLD RECORD
Adventurer, triathlete & ultra-distance cyclist Michael Strasser achieved the seemingly impossible in spring 2016! Alone, only with the support of two friends (Inge Kiselka & Chris Wisser) and a 20 year old Toyota he breaks the world record "Cairo > Cape Town" which was held by an international 5-man professional cycling team with 10 coaches and numerous accompanying buses. It was all about finding the fastest way from the Mediterranean to the Cape of Good Hope. More than 11,000 "African" kilometres and almost 70,000 metres in height had to be overcome.
Michael speaks about the long preparation and how to develop a project that cannot actually be planned at all. Even before the start of the adventure there were many setbacks to overcome and when Michael actually fainted and collapsed off his bikeafter the first week in Africa it became apparent how dramatic this project really was. With fantastic pictures and short videos he reports about the adventurous tour.
2021
Due to the pandemic, many events are "on hold"
2019
a tour in America/Canada is already planned - so are tour dates in Germany
2018
some dates for public lectures are in the planning stage, please check back here regularly
Vienna, Nordbahnhalle 18:00 - 18:30 followed by a large panel of experts and public discussions

More Informations

Linz

Frankfurt, Germany
2017
Secondary technical school, Styria (double lecture)

Business University Vienna, top league programm

Eichgraben, Fuhrwerkerhaus

corporate event, Burgenland

corporate event, Wien

Krems, Lower Austria, Bikepirat.at

Chamber of Labour Vienna, event "Ride your bike to work"

Mexico City, 6th World Bike Forum

Salzburg, 19.30, Elixhausen, HLW Ursprung

Graz, Feldkirchnerhof

Bavaria, Trostberg, German Alpine Club

Berlin Bicycle Week – the world's largest bicycle-lifestyle-show

Vorarlberg, Schulheim, 6841 Mäder

Vienna - private event

Vienna – additional event, Amtshaus 1090, Währingerstr. 43
2016
Vienna, Amtshaus 1090, Währingerstr. 43

Mannersdorf, Leithagebirge Mountains, event hall in the castle

Eisenstadt, BetriebsFitService

Berlin – Friedrichshain

Klagenfurt, 4*Hotel Sandwirt

Neusiedl am See, Weinwerk

Vienna Bicycle Show

Ohlsdorf – Upper Austria, Mezzo Cultural Center

Bruck an der Leitha – City theatre

Expeditions Club Vienna

Edelweiss hut, Schneeberg Mountain

University Sports Institute Vienna

HYPO Vorarlberg 1010 Wien

Museum of winter sports Mürzzuschlag

MedSuccess – THE medical fair at AKH Vienna

CaveManCafe, Stellenbosch, South Africa
"For us Michi Strasser is an extraordinary person, who remains down to earth - he is pure and humble, just like you and me!"